A collaborative, self-serve solution for all your dataops needs
Harmonizing disparate data
As companies get more data, in more formats, and from more sources they experience rapid growth in data heterogeneity, thus making combination, organization, and effective usage of data a huge challenge. Nexla solves this challenge with a product that continuously observes and learns from data and its associated metadata in order to be data aware and to provide a unified interface to heterogeneous data.
Take the case of Instacart, where their need was to work with heterogenous schema and delivery mechanisms of inventory data from partners. Leveraging Nexla's ability to harmonize schemas, combine data, and deliver to multiple systems in real-time and batch, they were able setup complex feeds in days instead of months. Read the case study here.
Synchronous data flows
Traditional ETL products do not cater to use cases where the data flow needs to ingest different slices of data based on real-time criteria specified by the end user. But these are not hypothetical use cases! Case in point – one of our customers in the logistics industry needed to power a frontend UI application with realtime tracking information from a partner carrier's API. The user enters a unique tracking number on a webform and is immediately presented with realtime tracking information. Behind the scenes Nexla's realtime synchronous data flow fetches data for that tracking number from the carrier's API, transforms it to frontend application's desired schema, and delivers it to the application – all within a few hundred milliseconds!
Outgoing data to partners
That B2B relationships require data flow is nothing new. This has been happening since the 70s when Electronic Data Interchange came into existence. However the complexity, and ubiquity of data flows has grown significantly. While in the past data sharing could be reasonably achieved through APIs or shared access to file systems, that approach today results in lost opportunities and high cost of resources and time to forge partnerships.
With Nexla's shareable datasets and tools to manage your data the way you like it, you can extract more value from your data by treating it as a product and securely sharing slices with your partners with speed, control, and compliance.
Event stream processing
Today, 58% of companies use streaming data. But with this evolution, some data stakeholders accustomed to files or tables can lose access to data. Nexla can connect to streaming event data and convert to file or batch processes, and vice versa. The platform allows analysts, data scientists, and data engineers to collaborate. Nexla's distributed processing runs in the background and scales automatically.
Learn more about event stream processing here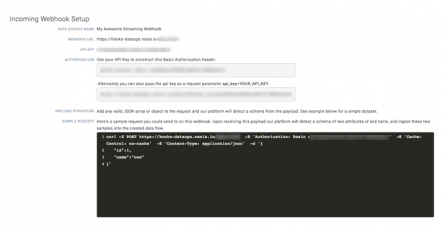 Supercharge your data operations today!
Get a demo of Nexla's powerful data operations platform to discover how we can help you end your data challenges.